New iPhone rumors weeks before the release
For some time now, rumors have suggested that Apple will be releasing three new iPhone models this year. We still don't know when the keynote will be hosted, but analysts have deduced that it might be scheduled for the second week of September. These devices will come in three different sizes – with 6.5" and 5.8" OLED displays and with a 6.1" LCD display. That is not going to be the only difference between them, the 6.1" will have 1GB of RAM less than its two brothers (3GB vs 4GB on 6.5" and 5.8") but it will also be cheaper as it is expected to start at $600 in the USA. It will also have only 1 camera while the more expensive models will house a dual camera setup.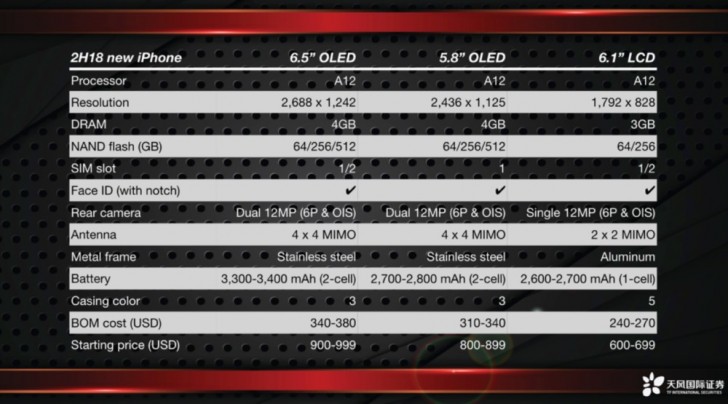 Well respected Apple analyst Ming-Chi Kuo has shared this table where he overviews everything interesting regarding all three of these devices. It is also worth to mention that stylus support will most probably not come to the 2018 iPhone line-up, while gesture navigation, FaceID and wireless charging will all be included into all devices.
Source